---
| | |
| --- | --- |
| Grand Prix Racing - | The Science of Fast Pinewood Cars |
---
Grand Prix Racing
The Science of Fast Pinewood Cars
by Michael Lastufka
Copyright © 1997 to 2004 by Michael Lastufka, All rights reserved.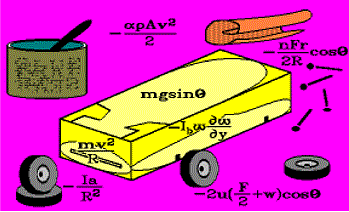 What is more gratifying than seeing the work of your own hands excel? Each year, thousands of boys and girls enjoy the thrill of racing pinewood cars they have made. It is a project that introduces each child to many physical and intellectual skills and the challenge of developing character that culminates in response to the race itself.
Solving the many problems of design and construction together, parents share their skills, thought processes and temperment with their children. Ultimately, success is a family concern defined in the process of building each other's lives and attitudes through the activity of the race. Indeed, whether a car wins or not, there need be no loser!
At the core of this manual is a detailed mathematical model of a Grand Prix race. Many of the results, tips, experiments and design aids are based on the model. You do NOT need to understand the model to use this manual. However, concepts used in the development of the model are accessible to most children and adults at some level. In these pages, science provides a scaffold and mathematics the mortar to glue concepts together in computable modeled results of the race.
You will find the questions that need to be addressed in the design of your car.
See how models are created from detailed descriptions of the physical processes influencing your car's behavior on the track.
Simulate your own races and determine effects of your modifications by evaluating a simple model and running a computer program.
Make knowledgeable design decisions from the results you obtain for your car and track measurements.
In the process, see the physics and math at work.
I have also pointed out some ways God reveals Himself to me in the physics. It is a rich expression of His handywork even in something as common and lowly as a miniture car race.
This manual is one in a series by Michael Lastufka. This material is for personal use only and may NOT be sold or distributed (electronically or otherwise) without written permission from the author. This manual is not available in hardcopy.
Back to Grand Prix Racing - All About Fast Pinewood Cars
---
| | |
| --- | --- |
| Grand Prix Racing - | The Science of Fast Pinewood Cars |
| Copyright © 1997 - 2004 by Michael Lastufka, All rights reserved. | |
---