---
| | |
| --- | --- |
| Raingutter Regatta - | All About Fast Breath Powered Boats |
---

Raingutter Regatta
All About Fast Breath Powered Boats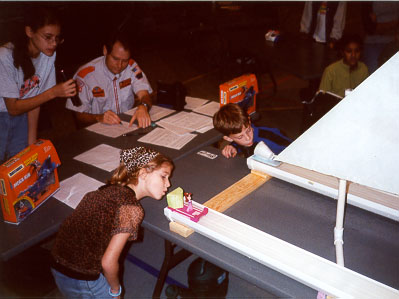 A raingutter regatta boat race depends as much on the participants as on their boats. A boat with an average "blower" may scoot through ten feet of water in 10 seconds. With a different captain at the helm, the same boat may skip across in less than three seconds - beating the waves! Other boats are limited in their speed by poor design and never have a chance to win no matter how good its Skipper is.
What about the performance of your breath powered boat? Do you know how to practice for the race? You may not end up with the fastest time, but you will have gained valuable insights and skills from your parent, teacher or leader that can benefit you for life.
On this site you will find:
A "recipe" manual that leads you through the steps of building four kinds of regatta boats.
A science manual that gives results from and demonstrates the physics and math used in quantitative mathematical models. Try the experiments to convince yourself and your friends!
This website is researched, modeled and written by Lastufka Labs. The series includes manuals on Pinewood Grand Prix, Raingutter Regatta, Rocket Contests, Airplane Toss and other events. This material is for personal use only and may NOT be sold or distributed (electronically or otherwise) without written permission from the authors.
Interact:
Keep up with the latest raingutter regatta developments, ask a question or tell your story. Visit Derby Talk! See you there, I'm PwEngineer. Be part of it!
---
Raingutter Regatta -

All About Fast Breath Powered Boats

Copyright © 1998 to 2004 by Michael Lastufka, All rights reserved worldwide.
---